Future Peak Flow Along the Rio Grande May Arrive Early Due to Climate Change
February 2, 2022
A new study finds that peak runoff on the Rio Grande could arrive earlier in the season by the end of the century, negatively impacting a watershed where demand already exceeds supply. This new study, funded in part by the South Central CASC, included scientists from the USGS New Mexico Water Science Center and the South Central Climate Adaptation Science Center at the University of Oklahoma. To read the press release and learn more about their findings, click here.
World Water Day 2022
March 22, 2022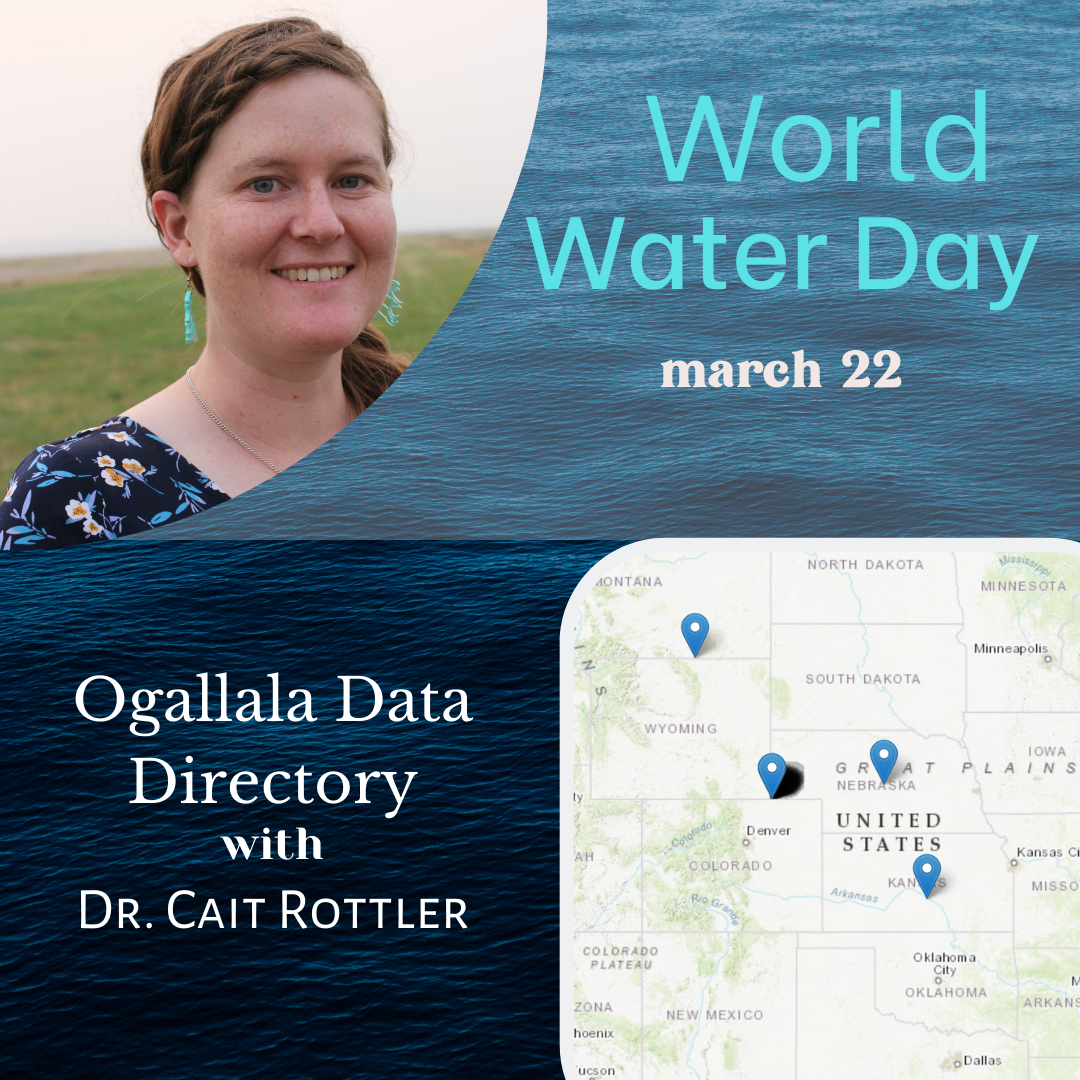 Today is World Water Day and this year's theme is "Groundwater – Making the Invisible, Visible". Here at the South Central CASC, we recognize the importance of sustainable water, so we're highlighting a large groundwater source within our region. Dr. Caitin Rottler, our Postdoctoral Research Associate, is collaborating with USDA Southern Plains Climate Hub to identify, organize, and synthesize information on datasets from the Ogallala Aquifer region into a single, searchable directory.
The Ogallala Aquifer is one of the world's largest aquifers that provides water for approximately 1.9 million people from beneath 111 million acres of land in Wyoming, South Dakota, Nebraska, Kansas, Colorado, Oklahoma, Texas, and New Mexico. It has been instrumental in the development of the robust agriculture economy of the Great Plains region and is a vital source of groundwater sustaining the creeks, streams, and ecology of the region. It is also a major supply of municipal water for many cities within the region. The water demands from this aquifer are already challenging but will increase as the climate becomes hotter and drier.
This project will provide water resource managers in the Ogallala Aquifer region with easy access to information about the aquifer that will support science-informed water management decisions in the Great Plains region. The directory will be hosted with the Ogallala Water Coordinated Agriculture Project (OWCAP) data portal that has been built through a collaboration with the Colorado State University Natural Resource Ecology Laboratory (CSU NREL). If you are aware of datasets that could be added to the directory, please reach out to Caitlin directly.
FY19 SC CASC Funded Project Organizing and Synthesizing Ogallala Aquifer Data to Facilitate Research and Resource Management
https://www.sciencebase.gov/catalog/item/5d49b777e4b01d82ce8de6f2
Dr. Caitlin Rottler can be reached by:
Email: caitlin.m.rottler@ou.edu
Linkedin: https://www.linkedin.com/in/caitlinmrottler/
Twitter: @caitydid685
Climate Change Impacts on Agricultural Water Availability in the Middle Rio Grande Basin
April 11, 2022
This study, funded in part through a USGS South Central CASC grant, was published in the Journal of the American Water Resources Association recently. The authors found that the reliability of reservoir storage will decline for the remainder of the 21st century. This research used updated climate projections which indicate that as river water reliability declines, so does the availability of fresh groundwater. Without adaptable mitigation solutions, the irrigated agriculture community of this region should be prepared to use marginal groundwater as the regional aquifer depletes within the 21st century.
Water Circulation Driven by Cold Fronts in the Wax Lake Delta (Louisiana, USA)
April 11, 2022
South Central CASC consortium co-PI, and assistant professor at LSU, Victor Rivera-Monroy, and others, recently published this paper in the Journal of Marine Science and Engineering. The researchers looked at how water circulation was impacted by the passage of cold fronts and found that the wind associated with these cold fronts in the winter is the main factor controlling water circulation in this region and a major driver in the changes in water level and exchange in the shallow system.
April 22, 2022
While climate issues are often placed into broad categories, like "fires" and "drought," their impacts vary from region to region. Resource managers and decision-makers need local expertise within these categories to develop successful strategies for adapting to climate change.
The USGS National and Regional Climate Adaptation Science Centers are proud to announce the creation of the Climate Adaptation Postdoctoral (CAP) Fellows Program. Fellows in each two-year cohort conduct research across the country, creating a national network of experts on the same topic. Each fellow is hosted by a university affiliated with one of the nine regional Climate Adaptation Science Centers (CASCs). The fellowship is punctuated by professional development courses and travel to national cohort meetings and workshops.
The current 2021-23 cohort's topic is "Future of Fire." Seven fellows are combining their regional expertise on fire and climate impacts to jointly create a nation-wide wildfire management synthesis project. Fellows are also working independently on regionally-specific projects. For example, Reetam Majumder is working with the Southeast CASC at North Carolina State University to examine prescribed burns under future climate scenarios, while Alyssa Anderson is working with the Pacific Islands CASC at the University of Hawaiʻi Manoa exploring wildland fire management.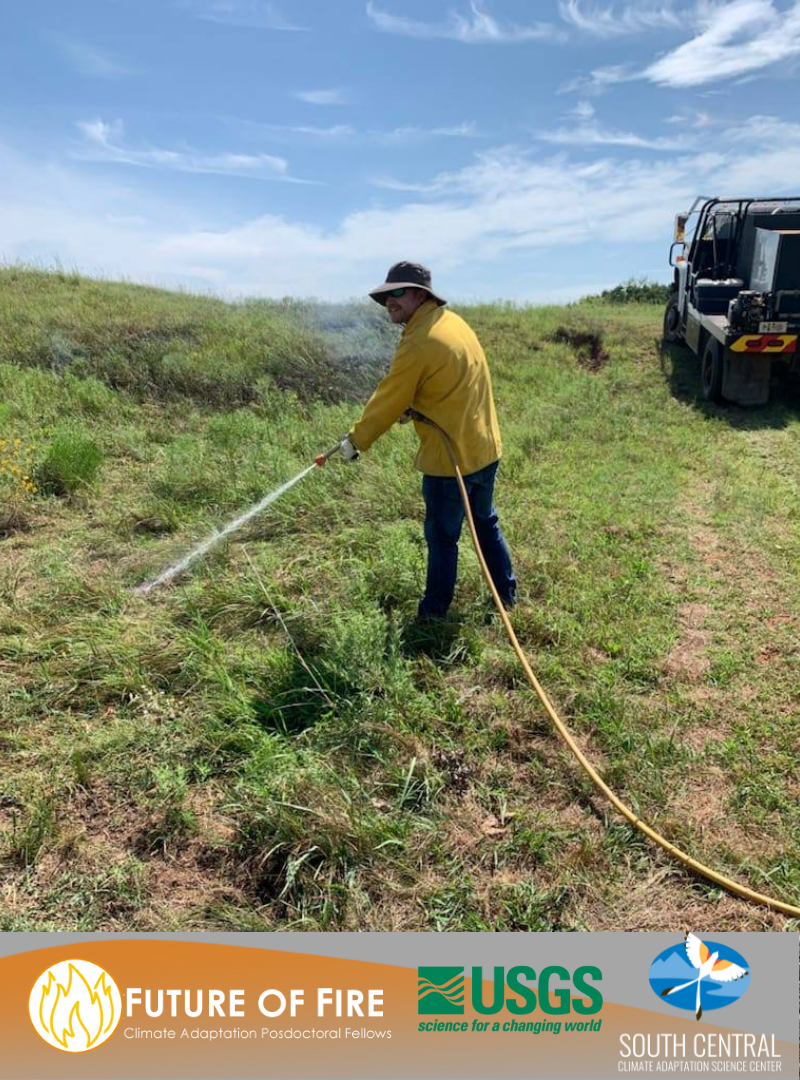 I would say that it has been a very enriching and mind-expanding experience so far. The SC-CASC region is fascinatingly diverse in terms of geography and human/society issues. My cohort has focused on 'the future of fire', which is moving in different ways depending on where you are in the region and across the country. I'm housed in northern Oklahoma, so my concerns have resolved predominantly around the use of prescribed fire to manage landscapes. At the national level, the cohort of post-docs have been working together to create an actionable product for management of fire going forward. I look forward to my second year of this awesome opportunity.

Aaron Russell, South Central Climate Adaptation Science Center current CAP Fire Fellow, Oklahoma State University.
The Climate Adaptation Science Centers network is a partnership-driven program that teams federal scientists with natural resource managers to help fish, wildlife, waters, and lands across the country adapt to climate change. The CASC network funds management-driven research and supports the next generation of scientists as they develop new ways to help natural places survive and thrive under climate change.
The 2022-2024 CAP cohort's theme is "Future of Aquatic Flows" and will soon open for applications. More information about the program and each CASC's topic can be found here.
South Central CASC co-PI at The University of Oklahoma receives prestigious Professorship award.
April 25, 2022
Please join us in congratulating Dr. Elinor Martin for earning the Edith Kinney Gaylord Presidential Professorship at The University of Oklahoma. OU's 2022 faculty awards.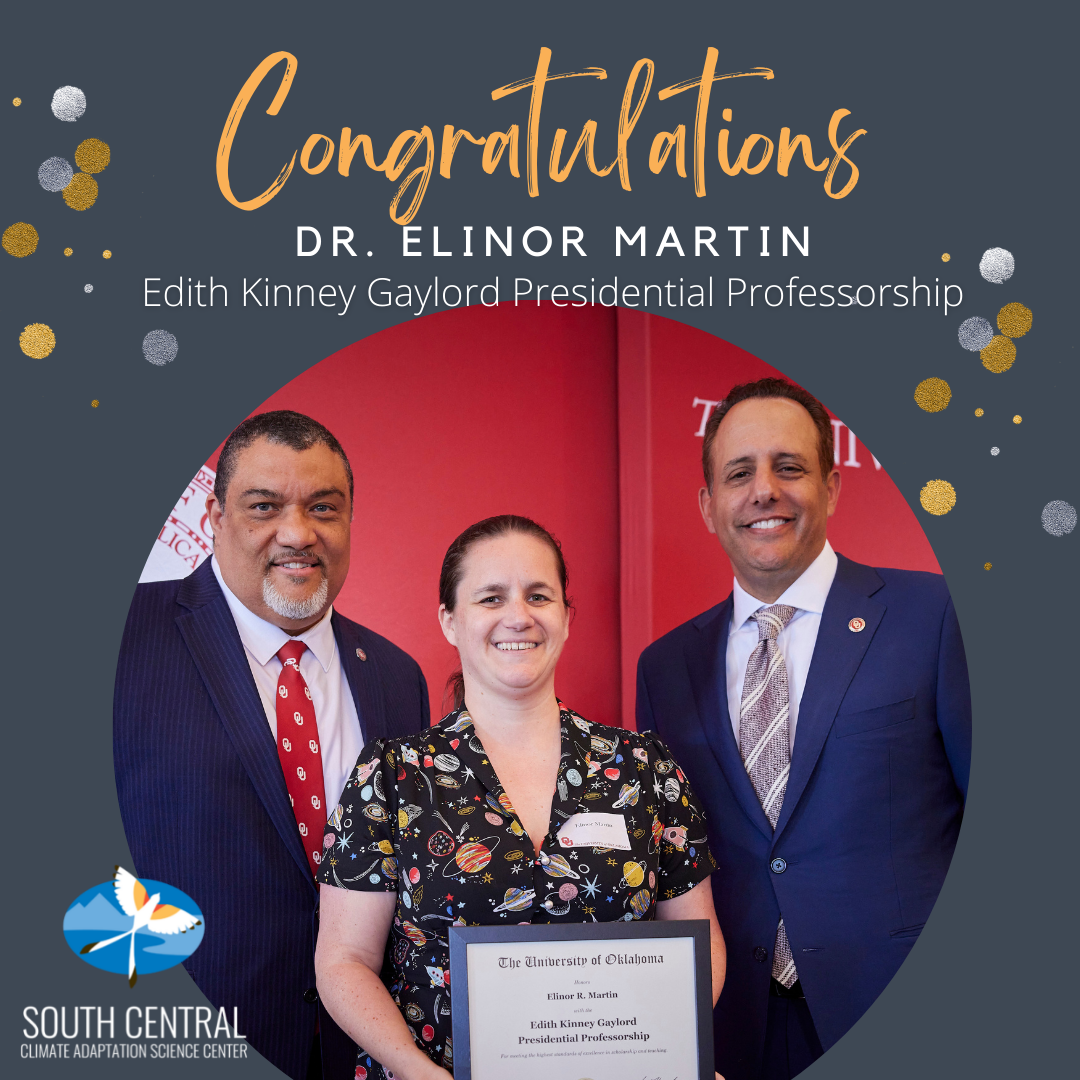 Elinor's faculty position was created with the South Central CASC original proposal and she was and is the perfect person for the position!! She's led many CASC-related research, education, and service efforts over the years. Her heart is in service to society and her brains are focused on precipitation variability and climate change across our region and others. She leads the PRES2iP team as well as CASC-funded projects. She worked with me to build the Managing for a Changing Climate course and in the OU URGE pod on diversity, equity, and inclusion in the geosciences. She has done much more for and with us over the years. I'm so excited for this prestigious award to be given to her! She's earned it!! Congrats, Elinor!!

Dr. Renee McPherson, University Director of the South Central CASC
April 26, 2022
The South Central CASC is proud to announce the 2022 recipients of our scholarships. Seven total scholarships were able to be awarded this year thanks to generous support.
South Central Climate Adaptation Science Center International Studies Scholarship
Our first scholarship is the International Studies Scholarship, which is awarded to a student in any field of study enrolled in a University approved Study Abroad program at The University of Oklahoma. This year, three students were chosen. Congratulations to Patrick Painter, Michael Beck, and Nondumiso Mndzebele! We can't wait to learn more about your adventures abroad.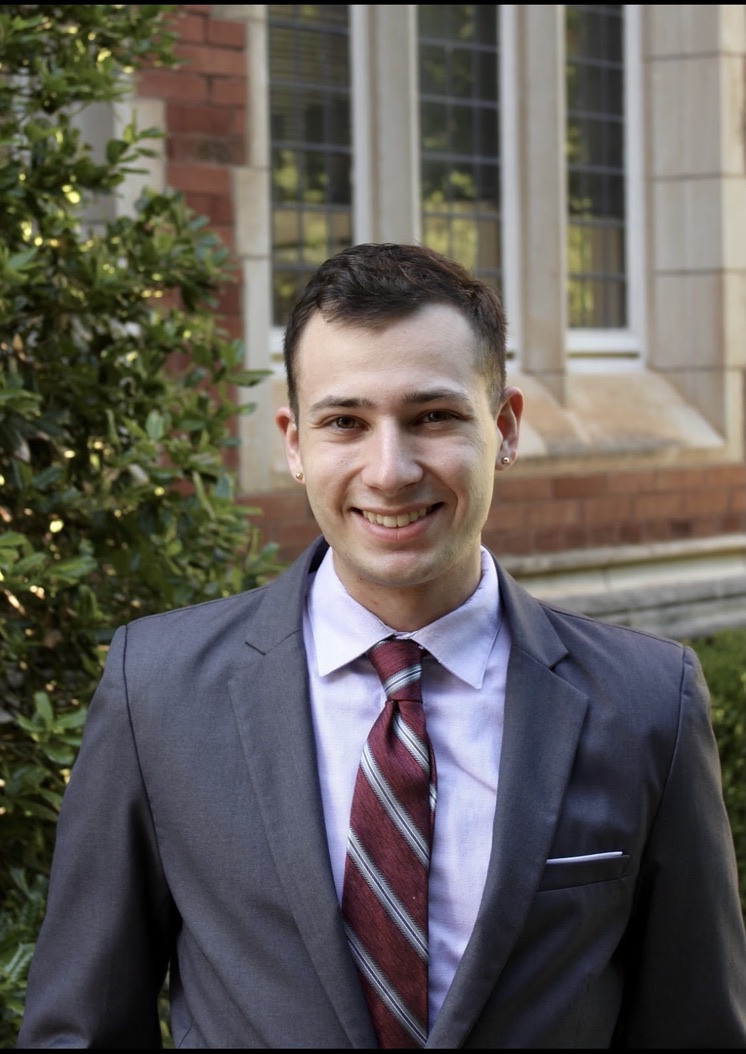 Hi! My name is Patrick Painter and I am a junior majoring in International Area Studies and minoring in Climate Adaptation at the University of Oklahoma. I am so thankful to the South-Central Climate Adaptation Science Center for selecting me as one of the recipients of their SC CASC International Studies Scholarship this year. Studying abroad has been a dream of mine since I was kid, and this scholarship will help make that dream a reality. During the Fall 2022 semester, I will be traveling to Arezzo, Italy to immerse myself in the culture, food, and language of the city, all while continuing my collegiate studies. It is an honor to serve as an ambassador for SC CASC as part of this scholarship and I am already excited to share all that I will experience and learn when I return!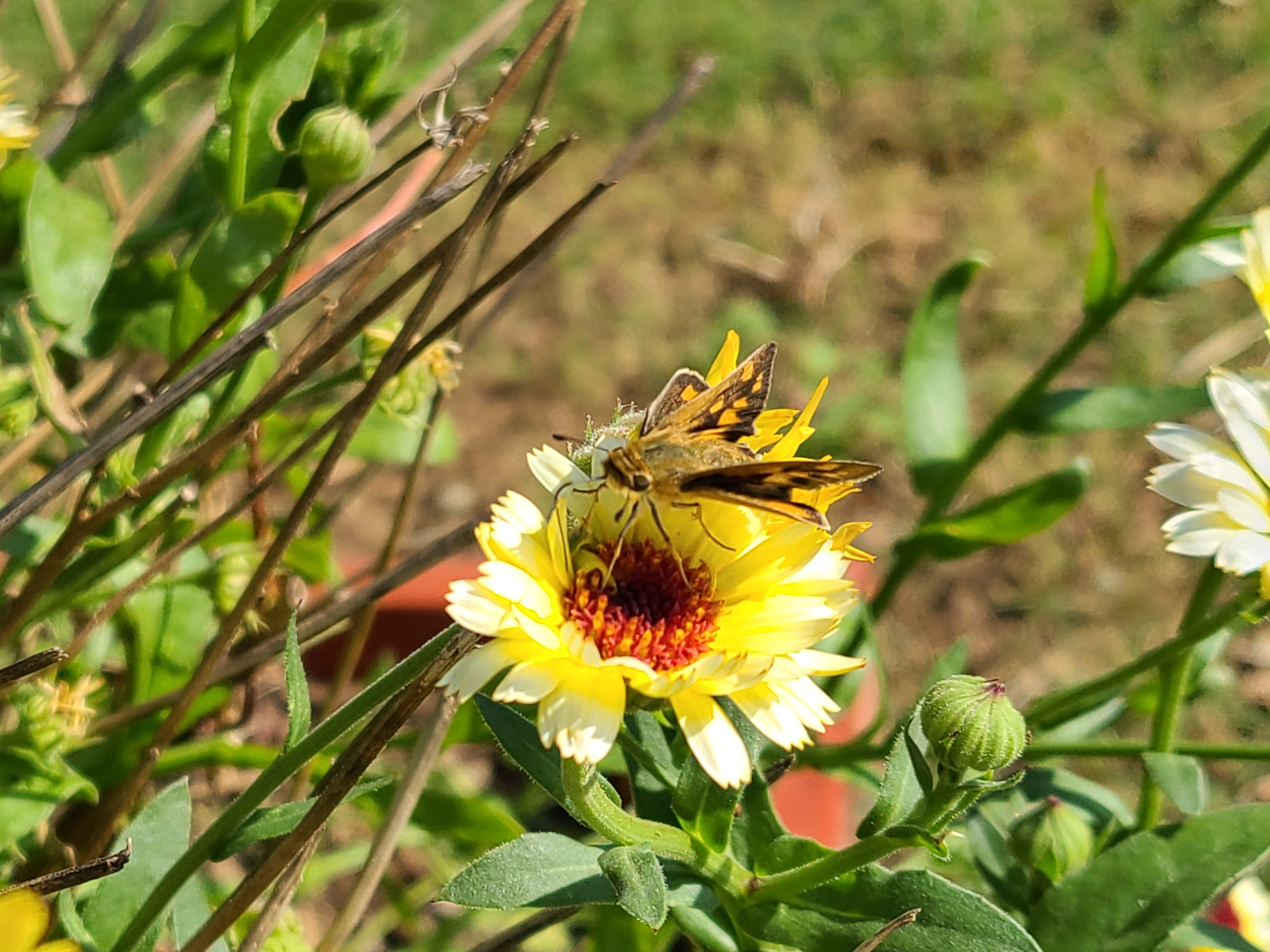 Hello, My name is Michael Beck (They/Them) I am a junior year student of Plant Biology at OU with a minor in Italian. I am a non-traditional student here at OU, I first attended college in 2015 at CSU but due to several health issues I did not continue my education until I came to OU in 2020. Attending OU has been an extremely rewarding experience. I have learned a lot about biology, conservation, and ecology, and as a disabled individual I have sought opportunities to address these issues in a way that is inclusive towards others with disabilities. In the summer I am going to be attending the Landscapes of Italy course at OU in Arezzo. In this course I will be studying Garden History and Environmental Conservation and looking for opportunities to apply this knowledge to my future praxis as an environmentalist and plant biologist. (Michael wanted to share one of their favorite plant photos)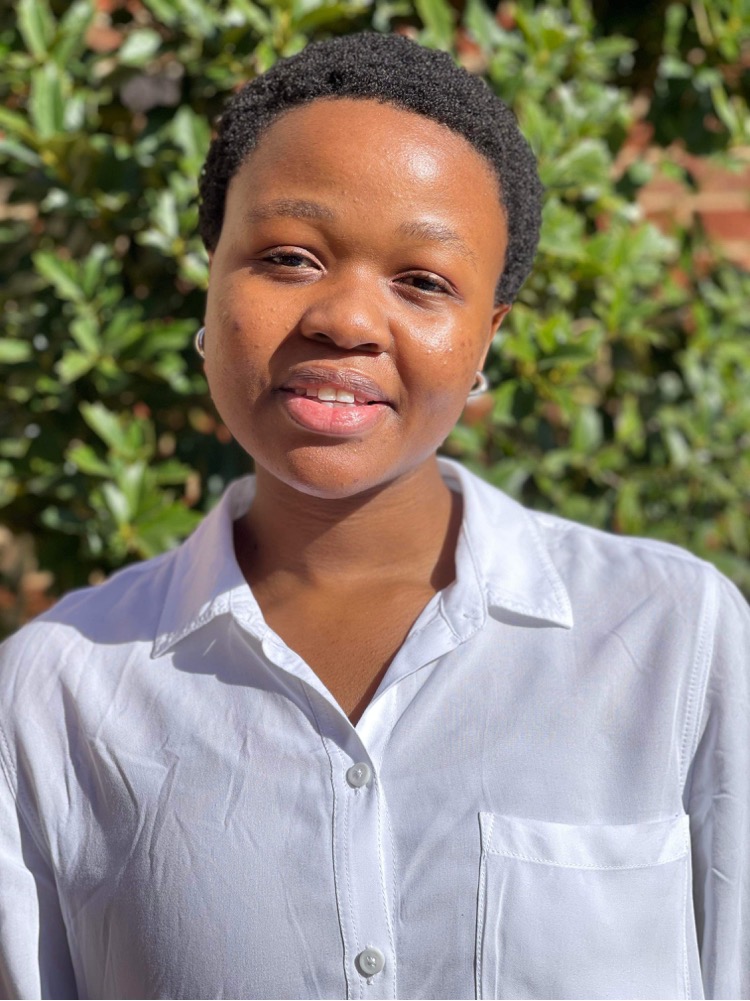 Nondumiso Mndzebele is a Global Energy, Environment, & Resources student at the University of Oklahoma. She is also a student employee at the South Central CASC working as the Social Media Coordinator. With regards to the scholarship, she is elated about the opportunity it will open for her to study abroad this upcoming fall and learn new cultures. In her free time, she enjoys checking in on her friends, listening to tons of podcasts, taking long walks outside, and trying out new foods.
South Central Climate Adaptation Science Center Scholarship
Our second scholarship is for undergraduate students within the Department of Geography and Environmental Sustainability at The University of Oklahoma. This year four students were chosen. Congratulations to John Daniel, Andrea Lyons, Adeline Miller, and Emily Pilgrim.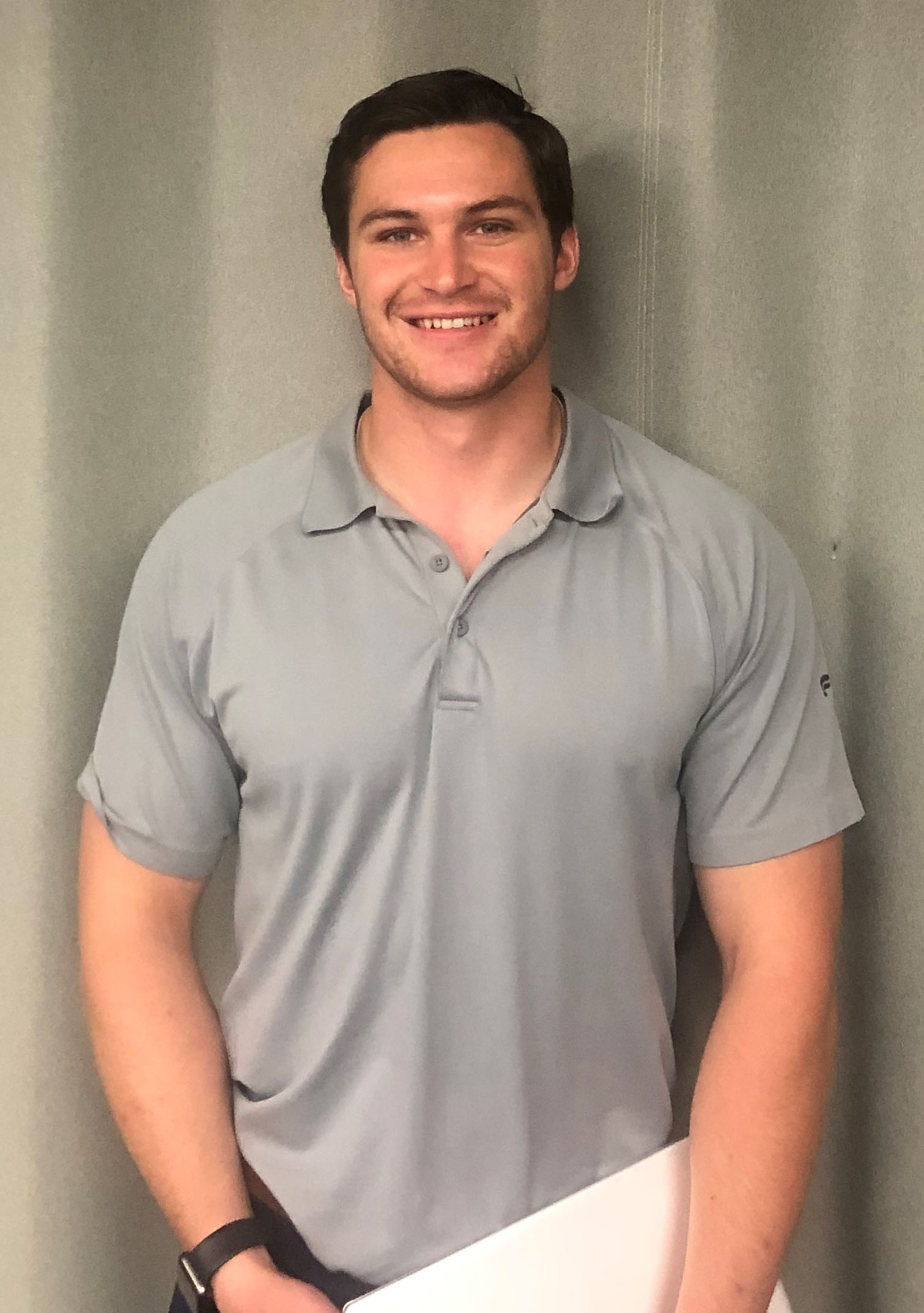 John Daniel is a senior undergraduate student at the University of Oklahoma, majoring in Environmental Sustainability. His interest in sustainability stemmed from his love for the outdoors from a young age. While at The University of Oklahoma, John has learned about the global economy and governmental institutions and the role they play in the preservation of the natural environment. John aspires to pursue a career as an EHS professional where he can help direct companies to be more sustainable in their business practices. In his free time, John enjoys lifting weights, the outdoors, and being involved in the Sigma Chi Fraternity.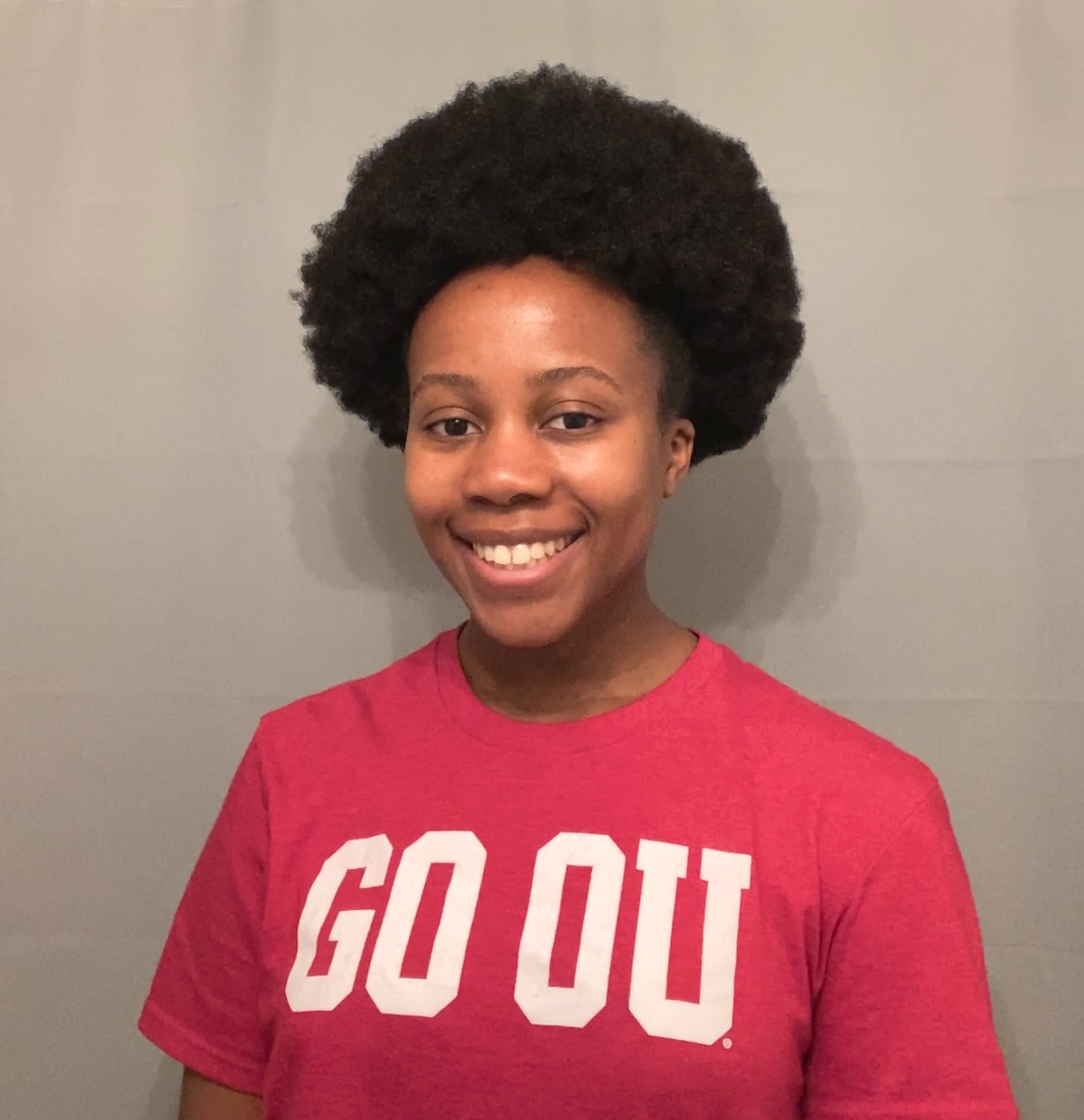 Hello! My name is Andrea Lyons. I am a 22-year-old junior at The University of Oklahoma, who is passionate about sustainability, inclusivity, and environmental justice. I am majoring in Environmental Sustainability with a concentration in planning and management. I love taking road trips and being able to admire natures beauty. Now that more people are starting to acknowledge that climate change is real, they want to help cut back on emissions by transitioning to more sustainable alternatives. However, some of those alternatives are out of reach for the poor and middle-class people, especially poor and middle-class people of color. I know that there's more that can be accomplished to make these environments and tools more inclusive. My goal is to educate and become a resource to my community of underrepresented black women, men, and children in fighting for a cleaner community and access to the same sustainable resources.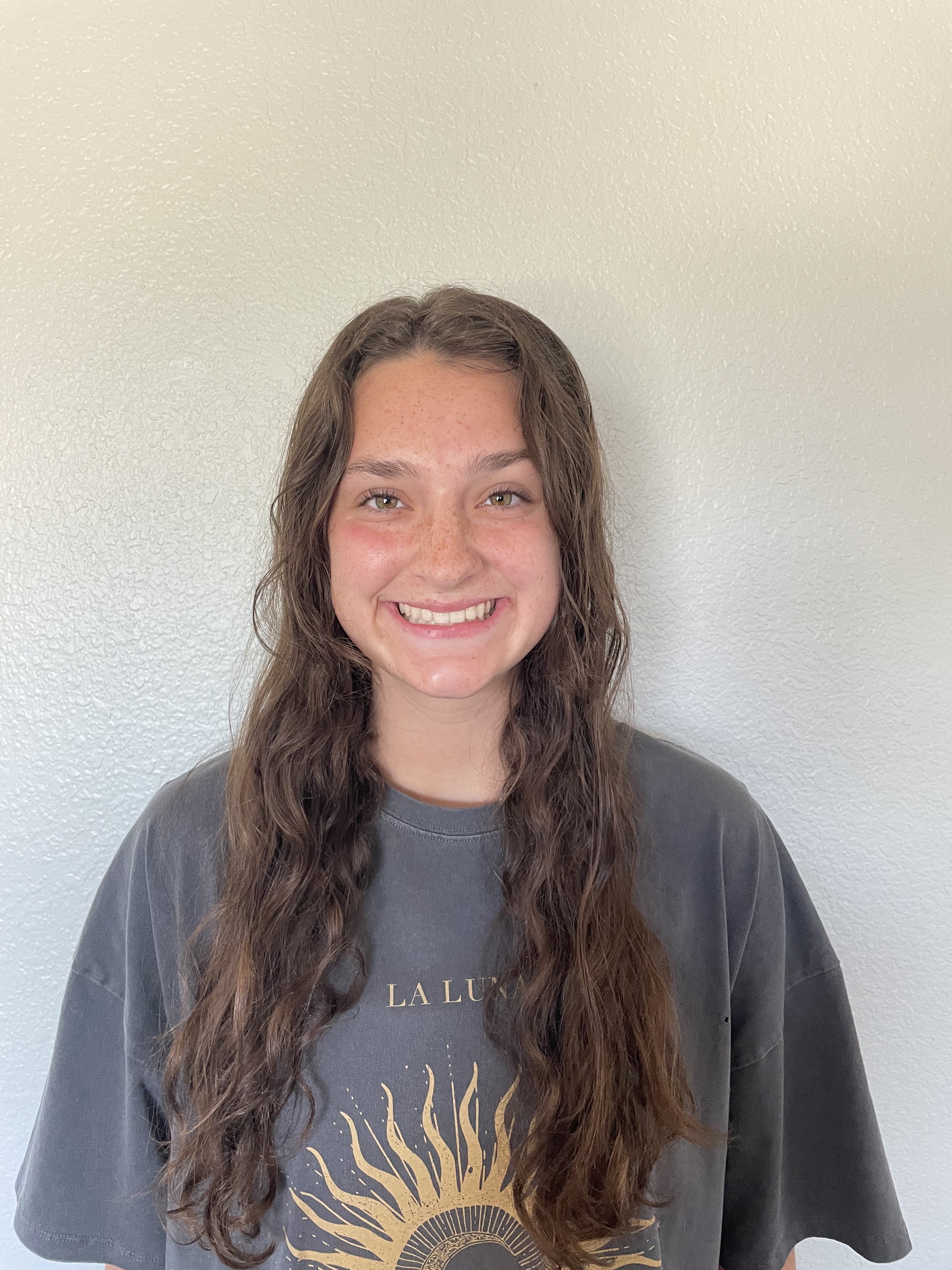 My name is Adeline Miller, and I am a freshman studying Environmental Sustainability at OU! I have always loved animals and the planet and want to do everything I can to make a difference. My future plans are to attend law school and ultimately practice Environmental law.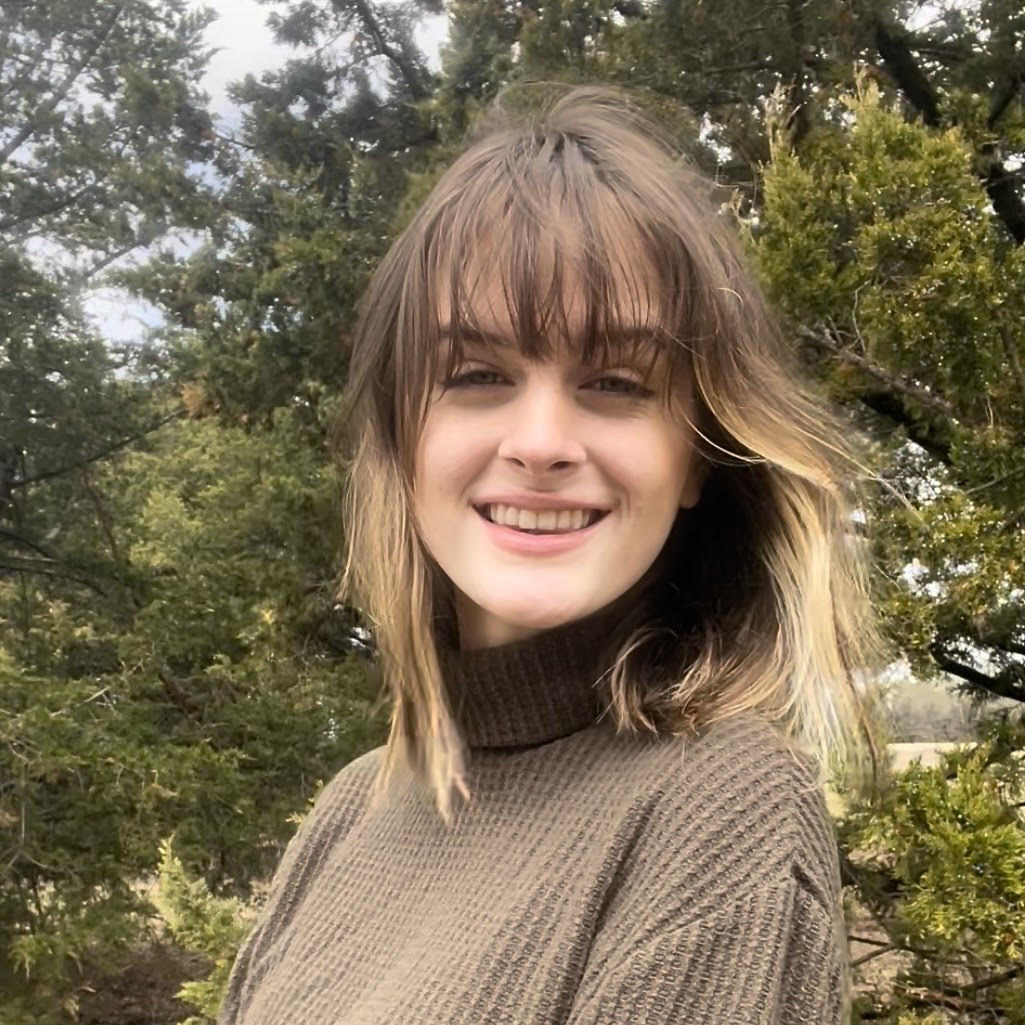 Emily Pilgrim is a sophomore at The University of Oklahoma where she is majoring in Environmental Sustainability with a concentration in Science and Natural Resources. Her interest in environmental issues began during high school when she first discovered the urgency of protecting the environment. She is interested in the ecological aspects of the environment and sustainable agriculture. Emily aspires to pursue a career in sustainability in which she can help the environment as well as vulnerable communities. When she is not busy learning about global environmental news, she enjoys reading, yoga, and volunteering.
'Only a tribe can speak for a tribe': Q&A with Native conservationists on Biden's 30 by 30 project"
July 22, 2022
April Taylor and Yvette Wiley, South Central CASC Tribal Liaisons, took part in an interview with Evan Bourtisfrom Mongabay about President Biden's 30 by 30 project which seeks to use nature conservation to address climate change and protect biodiversity. Please read the article below to learn more.
December 16, 2022
Members of the South Central Climate Adaptation Science Center will be presenting, receiving an award, or otherwise involved in the 2023 Annual Meeting of the American Meteorological Society (AMS) in Denver, CO January 8-13, 2023. We encourage you to check out these presentations and sessions.
Emma Kuster
Presenting Successes and Challenges with Initiating Climate-Focused Communities of Practice. Held during Session 4A – Engaging End-Users and Establishing Partnerships. Monday, January 9 at 4:00 PM MT.
Presenting Using Adult Education Practices to Increase Climate Literacy. Held during Joint Session J8 – Acquiring Certifications and Enhancing Skill Sets through Professional Development and Adult Learning Opportunities. Tuesday, January 10 at 4:00 PM MT. (Co-Authors Renee McPherson and Luke J. Kerr)
Emma Kuster, Cait Rottler, Co-authors on Bringing Drought Partners Together in the Southern Plains: A Meeting Summary. Held during Session 5A – Translating Climate Science into Action with the USDA Climate Hubs. Tuesday, January 10 at 9:00 AM MT.
Adrienne Wootten
Presenting Which Projections Do I Use? Selecting a Climate Model Ensemble Subset Based on Stakeholder Needs. Held during Session 5 – Other Topics in Applied Climatology. Tuesday, January 10 at 9:15 AM MT.
Editor's Award Winner
Weather, Climate, and Society
Adrienne Wootten
For insightful, thoughtful, and professional critiques on numerous manuscripts and their revisions
Irenea Corporal-Lodangco
Presenting Development of a Drought Prediction Model Based on Stepwise Multiple Linear Regression Using Teleconnection and Drought Indices. Held during Joint Session J16A – Statistics and Machine Learning for Climate Science Part 3. Thursday, 12 January at 4:00 PM MT. (Co-Author Renee McPherson)
Renee McPherson
Co-Chair Fifth National Climate Assessment: Updates and Opportunities for the AMS Community. Monday, January 9 at 10:45 AM MT.
Chair of Session 14B – Climate Change, Extreme Weather, and Public Health. Thursday, January 12 at 10:45 AM MT.
Additional South Central CASC related items:
22STUDENT Bias Correction and Evaluation of S2S Model Performance for Forecasting US Extreme Precipitation Events Devin Michael McAfee (poster presentation S151), University of Oklahoma, Norman, OK; and E. R. Martin and J. C. Furtado. Sunday, January 8 at 6:30 PM MT.
36CVC Climatology of Wet Bulb Globe Temperature Heat Waves in the United States Great Plains Benjamin Davis (poster presentation 382), University of Oklahoma, Norman, OK; and E. R. Martin and B. G. Illston. Tuesday, January 10 at 5:00 PM MT.
36CVC Wet season variability in North America. Gabriel Bromley (poster presentation 385), University of Oklahoma, Norman, OK; and E. R. Martin. Tuesday, January 10 at 5:00 PM MT.
4DEI Raising our Expectations for DEIJ Work in Geoscience Faculty Evaluation Systems: An Insight into who Sustains this Work and how this Labor is Recognized and Rewarded A Kotash, Home, Norman, OK; and M. Woodle, J. Bhattacharya, M. Elwood Madden, A. Cerato, M. Fahs, J. Irungu, E. R. Martin, L. Snyder, and G. S. Soreghan. Wednesday, January 11 at 4:45 PM MT.
37HYDRO Global Projections of Flash Drought in a Warming Climate Jordan I. Christian, Ph.D. (presenting), Univ. of Oklahoma, Norman, OK; and E. R. Martin, J. B. Basara, and J. C. Furtado. Thursday, January 12 at 11:30 AM MT.
37HYDRO Examining the Fall 2017 Precipitation Whiplash Event Across the Southern Great Plains from a Land-Surface Perspective Bryony L Puxley (presenting), University of Oklahoma, Norman, OK; and E. R. Martin, J. B. Basara, and J. I. Christian. Thursday, January 12 at 2:15 PM MT.
36CVC Prediction and Impacts of 14-day Extreme Precipitation Periods within the CONUS Melanie A. Schroers, University of Oklahoma, Norman, OK (poster presentation 964); and E. R. Martin. Thursday, January 12 at 5:00 PM MT.